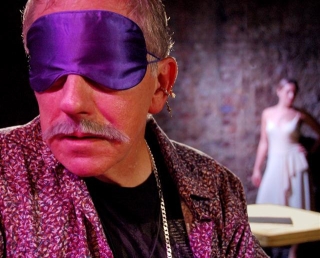 'The Beginning of the And'
Audax Theatre at the 78th Street Theatre Lab
Production closed; info here.
review by Naneh Israelyan
A play significantly infused with the nature of common interactions and human behavior, The Beginning of the And, written by Daniel Roberts, presents us with three unrelated narratives (all of which include a humorous filmed prologue) that involve colorful characters with quirky personalities. The first of the three, entitled "Apps," begins with a newlywed on his honeymoon waiting for his fiancé to arrive in order to have dinner and have a long awaited "conversation" about marriage. But as Bob Meyers waits in the hotel bar, he meets two regulars (as well as an overly fabricated bartender): a charming man, strangely obsessed with the art of appetizers and the right drinks to go with them, and Mr. Burns, more secretly known as Ringo Starr. "Burns" remains blindfolded for majority of his performance, occasionally passing incoherent comments; however, it is he that ultimately makes Bob realize that, although a series of alcoholic drinks may force a man to realize that marriage is nothing more than a job without substance, he is perfectly content with his overly obnoxious and spiteful wife.

The second narrative, "Orange," tells the story of an extremely dysfunctional man (John Orange), who runs an antique shop with his mother. At the beginning of the play, the store is visited by a young woman (Julia) asking for directions, but John instantly falls madly in love with her and ultimately offers her more than a list of instructions. Julia is unnaturally interested in John's bare antique collection; while she browses, the son relentlessly vents his inner frustration towards his mother, whom he continues to live with. A simple meal of scones and tea, and a startling fascination with a genuine Chippendale chair pale in comparison to Orange's excessively overdramatic reactions to absolutely everything, down to the smallest gesture or comment. Orange soon discovers that Julia has a husband waiting for her outside the antique store and tries everything in his power to get Julia to stay for dinner, and perhaps forever, to save him from the loneliness that has him chained to his mother. But in the end, Orange is left in the fantastical world of his own creation, and the company of his overbearing mother.
The final piece of the evening, "Ost," is one that clearly sets a statement on the unique and compelling nature of marriage. A haughty, middle-aged couple step foot in a warm, humble inn, called "The Angel's Arms" run by Monsieur, an accommodating and caring young man and his wife Fi, a complete nutshell that hyperventilates when something does not go as expected. Ost, an angry, headstrong, kleptomaniac with baby-like tendencies (who declares his name as a conventional adjective) is married to Lida, a soft-spoken, understanding Italian woman. However, as different as the couples are, they all have one thing in common—an undeniable affection and abnormal understanding for their significant other.
The connection between the three narratives is unclear at first; however, playwright Daniel Roberts does hint at the human tendency to come back to what is home, no matter how intolerable or unacceptable it may seem. The first of the three one-act plays has dynamic and eccentric characters, and alcohol helps to move the story along. The second piece is less satisfying than the first —the punch line of the story was excessively exaggerated to the point of irritation, as the dialogue did not provide movement for the story or development of the characters. Likewise, the last of the three one-acts features a central character that is a repetitive, over-the-top, snobby middle-aged man, whose constant struggle to steal a miniature bell and go to the outlet stores restricts the story from getting its point across. Regardless, all three proved to be rich one-acts abundant with dry humor and striking sadness but boundless appreciation and pleasure. In the people we would least expect, we find our place.