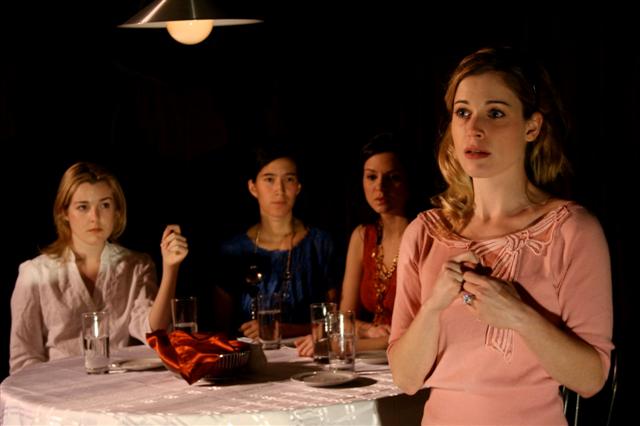 Review of Every Girl Gets Her Man
Written By Emma Sheanshang
Directed By Michael Melamedoff
Despite Jouissance Theater's program-notes proviso that "there is no 'outside' to the text," during my viewing last Sunday of this highly entertaining, visually enthralling glimpse into the dating lives of five beautiful New York women, my mind ventured outside. To Germany of all places. One of the aphoristic, didactic Geschicten (stories) in German Marxist playwright Bertolt Brecht's collection—Stories of Mr. Keuner fits right at home with this charming dramatic exposition on the absurdity of dating in New York City. It's about ideal types, ideal objects of desire, painterly objects of desire. I couldn't help but think of this fragment while watching the cast execute perfect dialogue to discuss the travails of Margot and her mercurial, never on stage, painter boyfriend Tristan. (Brief aside and admission—Sarah Wilson, who plays Margot in the production beats every crush I have ever entertained including Lisa Bonet, Cristina Ricci, Alyssa Milano, and Punky Brewster). Brecht:
If Mr. K Loved Someone.
"What do you do," Mr. K was asked, "if you love someone?"
"I make a sketch of the person," said Mr. K.,
"and make sure that one comes to resemble the other."
"Which? The sketch?" "No," said Mr. K., "the person."
Brecht is commenting on ideal types and how one should take idealizations of a desired love object seriously as a material force in one's perception of the actuality of that figure and molding of thus. The sketch for Brecht (in what on the surface seems like a counter-intuitive reversal) holds the weight of transformation here. Brecht's insight is vastly appropriate in thinking about a two-part dramatic exposition that with great humor and great care offers up a discussion on a boy, Margot's current love object that might not really exist! The dialog is infinitely amusing, penned and delivered with intelligence in tempo and momentum, the set design is sufficiently sparse (a table at a Manhattan-café), and the casting works wonders. The play presents a hot and insightful glimpse of Manhattan dating life from an eclectic group of women's perspectives. Sheanshang even had the good judgment to include the gorgeous Amy Flanagan to play Gaby, the character from New Jersey. This works to the benefit all of us who couldn't really identify with the bougie class aspirations of the other Manhattanites, with the exception of Margot, whose gloom and doom and quiet mannerisms makes her a bit more palatable than the other Carrie Bradshaws on stage. That admission in and of itself is a testament to the strength of the acting—Chloe Whiteford does an exemplary job playing Mary in all her "very upper East side" glory. Her feints at domestic bliss, her off mannerisms and serious investment in her cashmere sweater artificially half-attached to her shoulders conveys the rational kernel of that upwardly mobile social class—They are absolutely miserable and spiritedly deficient. Anna Margaret Hollyman playing Kate musters the kind of presence where it is quite difficult to keep your eyes off of her.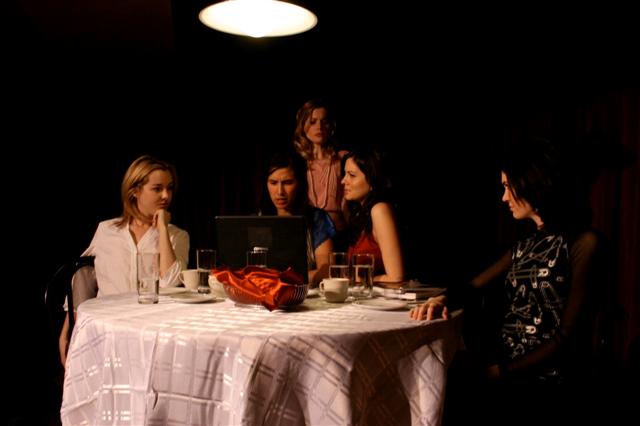 This is a worthwhile endeavor to come check out and furthermore it is funny, well written and expertly acted by the entire ensemble. The bar setting of the theater plus clientele mirrors scrumptiously the action on the stage. The night I went the audience felt like a cross-section of the weekend club scene in the Meat Packing District. (Lady in the suspenders last Sunday, Holler!!!) I was waiting for the Laura character, admirably played by Cass Buggé to interject some statement to the audience, some clique philosophical observation about art imitating life. Throughout the production Laura references Derrida, deconstruction, and high art theories in a tone that is not quite ironic, not quite ingenuous. A tone unsure of its confidence in its own pretensions. A tone sort of mimicked in the program notes of the production—naming your theater Jouissance and not referencing the great late critic Roland Barthes!
Even if Margot's boy Tristan is right and that "internet dating is a way for the conservative Right to instate a form of eugenics which results in stable marriage and minimizes the subversive power of passion and chance," Every Girl Gets Her Man proves that it can still be the fodder for amusing theater. Great accolades are due to the writer, director and wonderful cast. And the charming bar tender who supplied me with the Heinekens.
photos:
credit: Lucas Stoffel
1st picture, left to right: Anna Margaret Hollyman, Cass Bugge', Amy Flanagan, Chloe Whiteford
2nd picture, left to right: Anna Margaret Hollyman, Cass Bugge', Chloe Whiteford, Amy Flanagan, Sarah Wilson