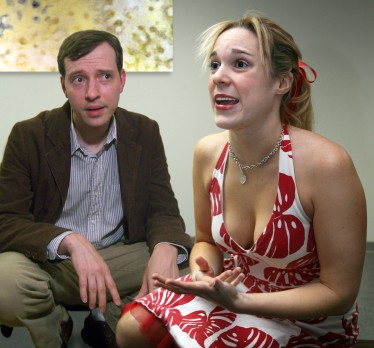 Review of MY FAVORITE ANIMAL
A Play by Tom Sime
Directed by Phyllis Cicero
Review by Joshua Plant
Through November 30th
Click here for tickets
Turn off your pagers and cell phones and enter Room 201 for a delightful romantic comedy by Tom Sime. My Favorite Animal is a flirtatious love story about Randi, a work-at-home gay man, that one day wished to be a beautiful young woman for a week to gain the attention from the straight men he so desired.

The story starts out with Jerry (Matt Lyle), a newbie therapist, trying to treat Herman (Ben Mayer), an overweight man with a 'glandular problem' deal with his similarly overweight wife. After he leaves, Jerry starts to get ready to go out to dinner with his mother when a knock on the door startles him. In walks Randi (with an 'i' not with a 'y'), a stunning 20-something-year-old woman. She discloses to Jerry that she needs to work up to explaining why she decided to seek his help. After some time she admits that Randi used to be Randy, a 36-year-old gay man with a goatee. He hated the typical fashionista gay men and their wretched club music, but he was increasingly attracted to the machismo straight man. One day he inadvertently wished that he could be a young woman for a week in order to gain the attention from straight men. After a night of weird dreaming, he gets his wish. Randy wakes up to go to the bathroom when he realizes he is no longer a he… and he has a hole where his pole used to be.
After discussing the mystery of the female orgasm, they are interrupted by Jerry's mother, Gail (Sylvia Leudtke). What should have been a quick goodbye turns into an interview with Gail asking Randi personal questions about why she is seeking therapy with her so-so therapist son, when a knock on the door creates suspicion amongst them. When Jerry opens the door, gun-yielding Devin (Randi's straight-man stalker) blows into the room. What develops is a surprisingly comical hostage situation/group therapy session that yields many twists and turns.
My Favorite Animal is a comedy that takes the viewer on a rollercoaster ride through self-discovery, love, and sexuality. Tom Sime's script kept us laughing through out the whole performance and left us with a feeling of joy. There was one point, however, that seemed out of place. It felt as though when Gail, Jerry, Randi and Devin were talking about their favorite animals it didn't add anything to the storyline and seemed like filler. The quick-moving and intimately twisted story kept the audience laughing and interested through the 90-minute show.  Even if you are not a theatre person, My Favorite Animal is a worthwhile show to see.