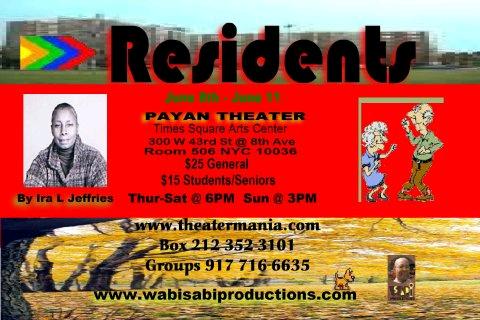 "Residents" about 2 seniors in a seniors home and their relationship.They come from different social,cultural and economic backgrounds but are brought together by circumstances that put them in a seniors residence. The Play opens June 8-10 @ 6pm and June 11 @ 3PM at the Payan Theater Room 506 in The Times Square Arts Center located at 300 W 43 street @ 8th ave. The show runs Thurs-Sat at 6PM and Sunday at 3pm. 4 Shows ONLY. Tickets are $25 General and $15 Students and Seniors. Get tickets At http://www.theatermania.com or call Box 24 hours a day 212 352-3101.
Groups and info call Emmitt 917 716-6635

The play directed by Emmitt Thrower is hilarious but really touches on issues regarding old age and senior homes and asks the question is it for everyone? What are some of the reasons people wind up in these places? It brings to light how diversity in upbringing or social status is not a wall that prevents friendships or understanding from taking place. The well conceived play is timely in its message of generational separation and degrading of the family responsibility concept.