Even if you don't usually like this kind of show, how can you not love Tina Turner? Full disclosure: we haven't seen it, but it sounds fun. Read on:
Announcement of Limited Off-Broadway Return Engagement:
"A delightful abundance of shimmying, strutting hips; one would be hard pressed to find a more compelling argument for the pleasures of freedom, especially freedom as hard-won as Ms. Turner's."
– The New York Times
"A fresh look on a well-known subject where the ultimate message is about the resiliency of the human spirit."
– The New York Sun
RIVER DEEP, A TRIBUTE TO TINA TURNER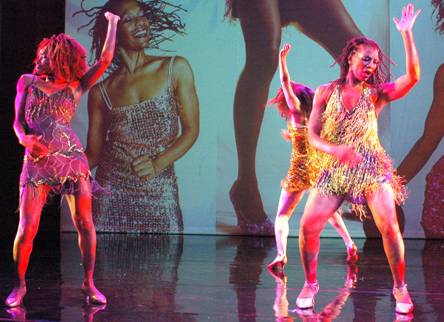 Photo: © Stephanie Berger
Directed and Choreographed By Gabrielle Lansner
Original Score By Philip Hamilton
Book Adapted By Gabrielle Lansner
From Tina Turner's Best-Selling Autobiography I, Tina
The Acclaimed Musical Returns to
The Peter Jay Sharp Theater
For a Strictly-Limited Off-Broadway Engagement
Wednesday, July 5 (Opening) Through Saturday, July 29, 2006

RIVER DEEP, A TRIBUTE TO TINA TURNER, a new musical celebrating the life story of music legend Tina Turner, will return to The Peter Jay Sharp Theatre (416 West 42nd Street on Theatre Row) this summer for a strictly limited Off-Broadway engagement. Directed by Gabrielle Lansner and choreographed in collaboration with the cast, RIVER DEEP has an original score by Philip Hamilton and a book adapted by Ms. Lansner from Turner's best-selling autobiography I, Tina (written in collaboration with Kurt Loder). RIVER DEEP had its world premiere at The Peter Jay Sharp Theatre earlier this year, playing January 20 through February 4, 2006. This summer, RIVER DEEP will play Wednesday, July 5 (Opening Night) through Saturday, July 29.
RIVER DEEP, A TRIBUTE TO TINA TURNER is a musical homage to a contemporary icon who is an inspiration for personal change. Through the original score, choreography, multi-media visual design and Turner's own words, RIVER DEEP celebrates Ms. Turner's life story, evoking the tremendous energy and depth of her musical performances and her journey of struggle, survival and renewal.
The cast of RIVER DEEP includes Pat Hall as Ms. Turner, and Erica Bowen, Zainab Jah, Heather Lind and Paula McGonagle.
RIVER DEEP has scenic design by Dean Taucher, costume design by Liz Prince and lighting design by Jim French. RIVER DEEP has projections featuring original images by photographer Stephanie Berger.
RIVER DEEP begins performances at The Peter Jay Sharp Theatre (416 West 42nd Street) on Wednesday, July 5. The performance schedule is Tuesday through Saturday at 8 p.m., with a matinee performance Saturday at 2 p.m. RIVER DEEP will end its limited engagement on Saturday, July 29.
Tickets for RIVER DEEP are priced at $35 and are now available by calling Ticket Central at 212-279-4200 or online at www.ticketcentral.com.
For further information, please visit www.gabriellelansner.com.