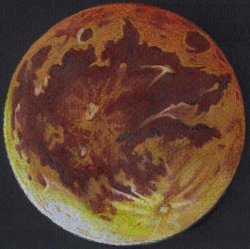 You've got to be nuts to open your show the same day as the The New York International Fringe Festival. Well, these folks are that nuts! The show sounds like it could be fun: a werewolf musical.
Blue moon, I saw you standing alone…
Oh, sorry. We're back. Info and press release are below:
AUTUMN MOON: A Rock Musical Thriller
David Velarde, book, music & lyrics
Jonathan Stuart Cerullo, director
Wings Theater Company, producer
Wings Theater, venue
154 Christopher Street, NYC
(212) 627-2961
August 11-September 2
(Monday, Wednesday, Thursday, Friday and Saturday at 8:00… Sunday at 3:30 and 8:00… no perfs on August 13 or 14)
Tickets – $20
Autumn Moon: A Rock Musical Thriller will make its world premiere at The Wings Theatre from August 11-September 2.

The show, with music, lyrics and book by David Velarde, is billed as a seductive, action-packed musical thriller that weaves a new beginning to a timeless horror classic.

On the eve of his twenty-fifth birthday, a young man named Lycan is troubled by increasingly tormenting nightmares. Desperate for answers, he turns to a psychic who reveals that, as a result of a deal struck by one of his ancestors with the devil, Lycan is destined to transform into a bloodthirsty werewolf with each full moon, starting on his twenty-fifth birthday. Through supernatural means, Lycan journeys backwards in time to one of his past lives in an attempt to break the curse.

The show is directed by Jonathan Stuart Cerullo, with choreography by Lauren Cozza, musical direction by Martin Bejerano, scenery and prop design by Deborah Gaouette, lighting design by Julie Seitel, costume design by Stephen Smith, and stage management by Colleen Sherry.

Featured in the cast are Dana Barathy, William Broyles, Jesse Easley, Mishaela Faucher, Sara Fetgatter, Scott Richard Foster, Jeremy Jonet, Marissa Lupp, Rebecca Riker, Amber Shirley and David Weitzer.

The show will open on August 11, 2006 at The Wings Theatre, located at 154 Christopher Street in New York City. Performances are scheduled for Mondays, Wednesdays, Thursdays, Fridays and Saturdays at 8:00 p.m., and Sundays at 3:30 p.m. and 8:00 p.m. Tickets are $20 and are available at www.wingstheatre.com or by calling the theater's box office at (212) 627-2961.

Additional information, including song clips, are available on the show's official website at www.autumnmoonmusical.com. The show's concept album contains 20 tracks and features vocal performances by David Velarde, Sherry Hart, Raymond Jaramillo McLeod (Dance of the Vampires, Wonderful Town), Allison Mosier and David Weitzer.