It's not "Streetcar", but it's Streetcar-esque. A man believes he is Stanley Kowalski from Tennessee Williams' classic play. Sounds like wish fulfillment to us. Photos and full press release after the jump.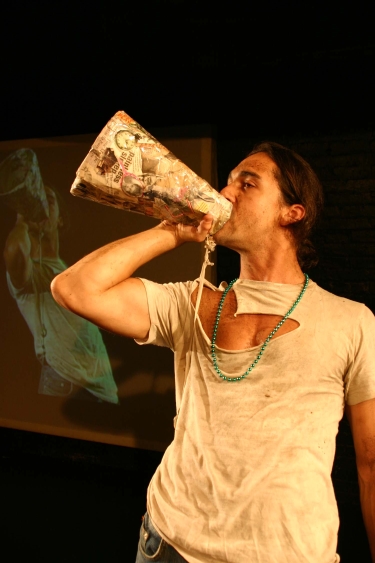 For Immediate Release: August 21, 2006
HERE ARTS CENTER
PRESENTS
"STANLEY (2006)"
WRITTEN & DIRECTED BY LISA D'AMOUR
PERFORMED BY TODD D'AMOUR
WITH VIDEO BY TARA WEBB
OCTOBER 26 – NOVEMBER 18
OPENING NIGHT: SUNDAY, OCTOBER 29
HERE ARTS CENTER
(145 SIXTH AVENUE)
The OBIE award-winning HERE Arts Center proudly presents Stanley (2006). Written and directed by Lisa D'Amour and performed by Todd D'Amour with video by Tara Webb, this production will play as part of HERE's 2006-2007 season, which features six new multi-disciplinary shows, two festivals and the completion of its renovations, scheduled for winter 2007. Stanley (2006) will play Thursday, October 26 – Saturday, November 18 at HERE Arts Center. Official opening is set for Sunday, October 29 @ 8:30PM.
Stanley (2006) delivers a kinetic, in-your-face multimedia performance from the minds of brother-sister team Lisa and Todd D'Amour. This new work unleashes a man who believes he is Stanley Kowalski, from A Streetcar Named Desire, into the year 2006. As the spirit of Brando's 'Stanley' looms, this man wanders the streets searching tirelessly for Blanche Dubois. As he questions his choices and struggles with the consequences, desperation and frustration come into sharp focus. Live video projections, from an onstage videographer, provide an extreme close-up of this man aching to get back what he has lost. Stanley (2006) traverses a both comical and frightening landscape, taking the audience on an unpredictable theatrical ride through the raw emotions of loss, regret and desire.
Lisa D'Amour is an OBIE-Award winning playwright and multidisciplinary performance artist who often creates site-specific work. Recent plays produced in New York include The Necklace with the Talking Band and The Cataract at the Women's Project, which was also produced at Perishable Theater with Theater of a Two Headed Calf. Her site-specific theater work includes LandMARK: 24 Hours @ the Stone Arch Bridge, a 24-hour continuous performance on a bridge in Minneapolis created with 5 other artists of different disciplines. Other plays produced in New York include Nita and Zita (HERE Arts Center, 2003 OBIE Award), Anna Bella Eema (New Georges) and Red Death (Clubbed Thumb). Lisa is the recipient of numerous fellowships and awards from organizations such as the Multi Arts Production Fund, the Jerome Foundation and the McKnight Foundation. She was a 2005/06 recipient of an NEA/TCG Playwrights' Residency in support of work on Hide Town with Infernal Bridegroom Productions in Houston. Lisa received her MFA in playwriting from the University of Texas at Austin. She is a core member of the Playwrights' Center, a recent alumna of New Dramatists and a resident artist at HERE Arts Center.
Todd D'Amour is an actor drawn to highly physical theater. In New York, he was most recently seen in Taylor Mac's Red Tide Blooming at PS 122. He has also worked with Theater of a Two-Headed Calf, and performed in readings and productions at SOHO Rep, Playwrights' Horizons, HERE Arts Center and Sanctuary Playwrights' Theater. He works regularly with Zuppa del Giorno, a commedia-based group in Scranton, PA, that has created performances inspired by the work of the Marx Brothers, Charlie Chaplin and Buster Keaton. Todd studied theater at Syracuse University and the American Academy of Dramatic Arts.
Lisa and Todd D'Amour now reside in New York City, but the pair originally hails from New Orleans, the setting for Williams' A Streetcar Named Desire. Their New Orleans roots served as a driving force in the creation of Stanley (2006).
Tara Webb is a costume designer and video artist. From 1998-2004, Tara worked on both video and costume for the Wooster Group's productions of House/Lights, North Atlantic, Hairy Ape, To You The Birdie! and the restaging of Brace Up! (2003). Other costume and video projects include costumes for Major Barbara for Theater of a Two-Headed Calf (LaMama), costumes for Cynthia Hopkins' Accidental Nostalgia (Arts at St. Ann's) costumes and video for Koosilja Hwang's Deadman Dancing, costumes for The Flying Carpet Theatre's production of Lilliom and costumes for Trey Lyford and Geoff Sobelle's all wear bowlers at HERE Arts Center, which has toured to the Edinburgh Festival, La Jolla Playhouse and many other venues. Tara has worked closely with the Collapsable Giraffe since 1999 and recently performed in their production of Letters from the Earth. Tara is currently a graduate student in NYU's Visual Culture program.
Stanley (2006) has been developed through the HERE Artist Residency Program (HARP), which provides development, commissions and full production support. Since 1993, the OBIE-winning HERE Arts Center has been a premier arts organization in NYC and a leader in the field of new, hybrid performance work. Under the executive and artistic leadership of Kristin Marting, HERE has served 11,000 emerging to mid-career artists developing work that does not fit a conventional programming agenda. Work presented at HERE has garnered 10 OBIE awards, an OBIE grant for artistic achievement, three Drama Desk nominations, two Berrilla Kerr Awards, two NY Innovative Theatre Awards, an Edwin Booth Award and a Pulitzer Prize nomination. HERE was awarded a $500,000 federal grant by the Lower Manhattan Development Corporation, a $600,000 capital grant from the City of New York and Co-Founder Kristin Marting was honored with a 2005 BAX10 Award for Arts Managers. HERE is proud to support artists at all stages in their careers through full productions, artist residency programs, festivals and subsidized performance and rehearsal space. Work at HERE is curated based on the strength and uniqueness of the artist's vision. In 2005, with the support of FJC, a foundation of donor advised funds, the Lower Manhattan Development Corporation and the City of New York, HERE purchased its long-time home as part of a five-year "Secure HERE's Future" campaign.
Stanley (2006) will play October 26 – November 18 as follows at HERE Arts Center (145 Sixth Avenue, one block below Spring Street). Starting Thursday, October 26, Stanley (2006) will run Wednesday through Monday @ 8:30 PM. All tickets are $20. Purchases can be made online at www.here.org, by calling 212-352-3101 or at the HERE Box Office (4 PM until curtain on performance days). For more info, check out www.here.org.
* * *