The Scarlett O'Hara Complex
Review by Caroline M. Sun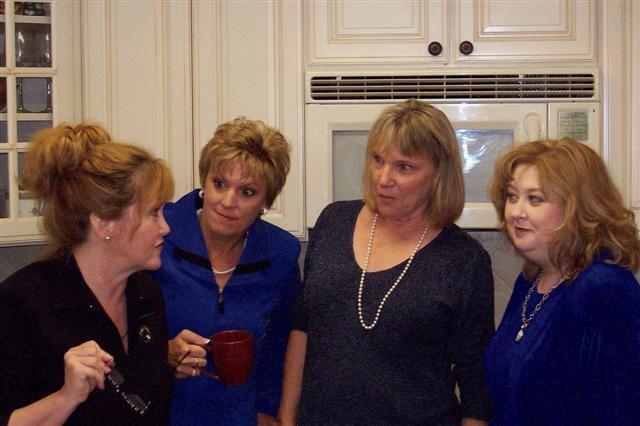 The Scarlett O'Hara Complex is a southern-fried comedy about a group of close-knit, middle-aged women who suspect "murder" when one of them catches her husband in a compromising position. A cross between Nancy Drew and The Golden Girls, these chatty, catty amateur sleuths set about trying to discover and thwart the plot of their wounded friend. In the process, the looming shadow of gentility cast over southern women by the movie Gone with the Wind is juxtaposed against the real-life violence of southern belles like Blanche Taylor Moore and Lorena Bobbitt.

The play occurs largely in coffee klatches in one woman's kitchen. Although the women are supposed to be long-time friends, most of the laughs are drawn at each other's expense. The women appear to have nothing else to do except gossip and engage in make-believe. No wonder they imagine murder! At one point, they don costumes from various incarnations of Scarlett O'Hara that simply burlesque the movie without making much of a point.
All the actors work very hard to be funny and a bit "larger-than life," and there are some memorable zingers in the first act. Unfortunately, at the matinee I attended, there was noticeable line flubbing. In general, the characters had a "cardboard" quality. The one exception was Rebecca Clark playing the small role of the daughter Claire: she had some fine moments of pain and despair that both foreshadowed how women get into unhappy marriages and why that might induce a murderous rage.
The playwright, Karen Wheeling-Reynolds, who also played the role of Libby, provided some interesting and provocative facts about women and violence in the South that could have provided even more food for thought if the play's ending, which occurs rather abruptly, had not so neatly tied up each women's troubles in the last two minutes. Given the ongoing list of grievances by women against their husbands that informs the play, why sweep it all away with a magic wand at the end?
The set, invoking a suburban kitchen, turns out to be too large for its stage. Scene changes were frequent and over long and did not manage to transform the scene much at all in the end. Better was the spotlighting of one or two characters against a darkened stage for evoking a separate time and place.
This Scarlett clearly has some important and intriguing things to say, but she needs to give more of a damn.
Now through Sunday December 9th. Click here for tickets and info.