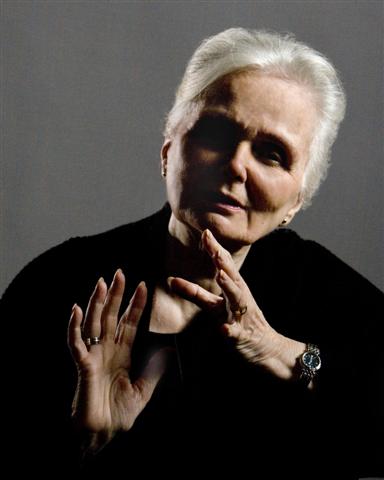 Mary Jane Wells in 'Transit'
click for full-size image
'Transit'
The Stage Left Studio, part of the Midtown International Theater Festival
review by Naneh Israelyan
'Transit', written and performed by Mary Jane Wells, most definitely moves at the speed of a train in motion—except that the train stops are entirely unconnected. The journey was almost as if I was transferring from one train to another so often that keeping track of the storyline turned impossible by an hour into the monologue. Perhaps it was partly due to the melodramatic, numerous running storylines, or the fact that a sweet old lady included minute, unnecessary details of a life well-lived.
The journey begins in South Dakota and somewhere between the overused God-related remarks and light bulbs appearing above her head, Wells somehow arrives in Kansas City after making several stops in Chicago, Florida, New York, and Boston. It is here that Peter, Wells' husband, finds a job, Wells becomes acquainted with theater in Kansas City, her mother's funeral is held on a cold March day to which nobody came, Wells dreams as a young adult that one day she would live in a penthouse with a helicopter pad, finally moves to Manhattan with a clean slate, and thereafter, breaks her ankles. The sequence of events unravels rather clumsily and the bulk of information being thrown fails to draw in the audience and keep them there.
Despite an insufficient plot or lack of well-connected storylines, therein lay some religious undertones that help little, but nonetheless help to provide a stable ground for the play. The transition from one religious methodology to another and the discovery of new forms of spirituality help to get the story from one point to another.
'Transit' closed on August 5th. Click here for information about the production.