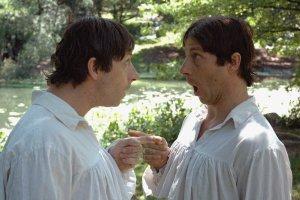 Pictured: Grant Neale & Grant Neale

Photo by Miranda Arden
Summer in New York means FREE SHAKESPEARE and lots of it. New York Classical Theatre has been doing the free Shakey thang since 2000, and director Stephen Burdman did it even before that, so one imagines they know how to give audiences a night to remember. And hey, if you don't like it, you can always get your money back.

The Comedy of Errors
New York Classical Theatre's "Shakespeare on the Run"

presents

"The Comedy of Errors" Aug 3-27, FREE!
Thursdays-Sundays at 7pm
at West 103rd Street & CPW inside Central Park ,
All Ages, FREE!

by William Shakespeare

Directed by Stephen Burdman

August 3 – 27
Thursdays – Sundays 7pm Sharp

Inside Central Park, at West 103rd Street & CPW

7pm Sharp! (running time approx. 1 hour)
Great for all ages!
Subway: B or C to 103rd St & CPW
Bus: M7, M10, to 103rd Street & CPW
FREE!

No Tickets or Reservations Needed, Just Show Up!
Hotline: 212-252-4531

Shakespeare's most beloved and hysterical comedies,
"The Comedy of Errors." Two sets of identical twins are separated at birth by a sea storm and now come together for the first time – need we say more?!?

See if you can tell them apart as this head-spinning and hair-raising mix-up of multiple personalities runs through Central Park just for you! Can you keep up?

Cast Includes:

Cast Includes: Natalie Knepp, Michael Marion, Joe Menino,
Mary Jo McConnell, Grant Neale, Shad Ramsey, Max Vogler, Ashley West, Patrick Zeller and Tessa Zugmeyer.

Stephen Burdman, Artistic Director, will direct you in the right direction, so you won't miss a thing. When you enter at West 103rd Street and Central Park West you will be led into the park where the play will begin. Central Park's grounds set the stage for this production and then the fun really begins!

As you watch the show, the next scene that is about to happen starts about 50 feet away, and then we are off. The whole audience follows the actors to where the scene is taking place every 10-15 minutes, so no snoozing during this show!

The play begins at West 103rd Street and moves around the lake using footbridges, trees, rocks, benches and even the audience as scenery!

There are no lines to wait on, no reservations to make,
and no tickets to buy! Just show up!

Lots of fun with this Shakespeare production, it's great for the whole family.

Wear comfortable shoes or sneakers, and you can come on your bike, rollerblades, heely's or scooters. You can even bring along your dog for the walk! The show is wheelchair accessible and perfect to bring the little ones in their strollers.

As the sun goes down, Stephen and his crew – – with a little help from Central Park's fireflies – – will light the show.

New York Classical provides a great night of FREE theatre for the family, a date, friends, or even those who are flying solo!

Shakespeare enthusiasts and those new to the Bard will have a great time experiencing Shakespeare with New York Classical Theatre!

Come early and enjoy a picnic before the show!