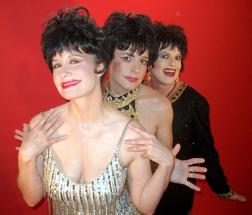 That Karen – always up to something. This time she's doing a "9/11-Liza Minelli Tribute". No, really, she is. Bottom line: she may or may not be your cup of tea (or chocolate – ha ha, bad joke there), but she's certainly never boring. This show was done before and got some nice notices.
Karen Finley's 9/11-Liza Minnelli Tribute Returns to Honor 5th Anniversary
MAKE LOVE
3 Shows Only! September 8 – 10 at The Cutting Room

"a funny and surprisingly moving love poem to a place and its people" — Ben Brantley, The New York Times

"Simultaneously packing punch and poignancy, Finley reminds you why you came to New York in the first place." — Flavorpill

Internationally acclaimed performance artist KAREN FINLEY honors the 5th Anniversary of the attack on the World Trade Center with an encore engagement of her critically acclaimed piece MAKE LOVE. This cabaret-driven, lounge-style act co-starring drag performer and artist Chris Tanner, pianist Lance Cruce, and a rotating roster of Liza Minnelli impersonators will run September 8 – 10 at The Cutting Room. It will be updated and slightly modified to reflect current events.

In MAKE LOVE, Finley channels Liza Minnelli in song, dance, glamour and glitter. Liza's tragicomic life is the backdrop as one New Yorker grasps to make sense of post-9/11 America. The "Divaness" of Liza as an icon and symbol of New York becomes the place to throw pathos, hilarity, mockery and taboos. With piano, torch singing and KAREN FINLEY as the narrator, MAKE LOVE is a complex amalgam of humor, pain and compassion.

"Liza Minnelli is New York," explains Finley. "She keeps on trying. After her hip replacement, she still gets up and dances. Every time she gets knocked down, she gets right back up." Finley encourages audience members to come dressed as their own inner-Liza.

MAKE LOVE originally premiered in August, 2003 at Fez in NoHo. It won raves from critics and audiences alike and was extended five times. The piece became required viewing in Performance Studies classes at both NYU and Columbia University. It was also a haven for celebrities seeking an alternative take on 9/11, attracting the likes of Joan Rivers, Boy George, Frasier's Jane Adams, Queer as Folk's Randy Harrison, Blaine Trump, Michael Musto, The B-52's Kate Pierson, Rufus Wainwright and more. Make Love has also been seen in San Diego, Denver, Philadelphia, and Minneapolis.

Since her first performances in the early 1980s, KAREN FINLEY has become synonymous with performance art. She is the recipient of two Obies, two Bessies, and multiple grants from the NEA and NYSCA. She has toured internationally with pieces including George & Martha, The American Chestnut, A Certain Level of Denial and The Return of The Chocolate Smeared Woman. In 1990, Finley became an unwilling symbol for the NEA when she, along with Tim Miller, Holly Hughes & John Fleck, sued the NEA for withdrawing grants on the grounds of indecency.

MAKE LOVE runs September 8, 9 & 10 at 8:00pm. Tickets are $20. The Cutting Room is located at 19 West 24th Street — accessible from the N,R,F,V & 6 trains at 23rd Street. Tickets are $15, available at 212-352-3101 or TheaterMania.com.