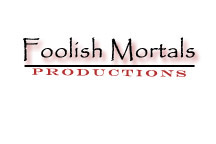 AGAIN with the bad puns. Well, that's not really a pun, it's more of a joke. But it's still bad. (If you don't get it, it's a take off on the tag line for Trix cereal. Exciting we know.)
IS THERE A POINT HERE?
Yes, of course. This is a new production of Shakespeare's A Midsummer Night's Dream. The trick? It's ALL WOMEN. Considering how many years Shakey's plays were done with all dudes, this only seems fair.
Press release and the way cool postcard are below. If you see this show (or any other, frankly), contact us (info is here) and let us know.
Foolish Mortals Presents
A Midsummer Night's Dream by William Shakespeare
Directed by Blake Bradford


Featuring an all-female cast, Foolish Mortals' production of A Midsummer Night's Dream follows four young lovers as they flee the city of Athens to find freedom and love in the forest. There they discover a place of enchantment, inhabited by fairies and their warring masters, Titania and Oberon. A group of local artisans rehearsing a play also look to the forest for privacy, but everyone's plans are disrupted by the impish prankster Puck. One of Shakespeare's most beloved comedies, A Midsummer Night's Dream evokes a world of rebellion, magic and romance, where chaos erupts, lovers are mismatched, and all is reconciled through the wonder and power of love.

The Grand Theatre at The Producers' Club
358 West 44th Street (between 8th & 9th)

Opens August 30, 2006
Closes September 10, 2006
Tuesday through Saturday performances at 8:00, Saturday matinees at 3:00, Sunday nights at 7:00
Tickets: $20.00 Reservations: 212-769-7973, theatremania.com

Cast
Shari Paige Acker, Kelly Barrett, Tamara Cacchione, Molly Curch, Casey Duncan, Nancy Elton, Mary Jane Gocher, Sri Gordon, Alicia Green, Erin Elizabeth Hart, Rachel Lande, Catharine Pecile, Nicole Serra, Christine Vinh, Nasreen Z'Navi, Kymm Zuckert

Crew
Assistant Director Wayne Yeager, Stage Manager Richard Kroft