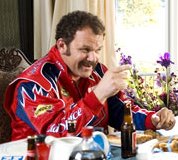 We don't know if this is still technically off-off Broadway since there's a big time movie star performing there. On the other hand, Clare Danes did a show there, so I guess it's not so unusual. Regardless of how many off's one wants to use when describing the theater, there's no denying that having the star of a huge summer movie like Talladega Nights is a cool thing. Reilly's done theater in NYC before, notably "True West" with Philip Seymour Hoffman. (And he was so freakin' good in Boogie Nights.) Yeah, whatever, you say? Look, the more actors who come back and do theater after their fame and success level has surpassed most folks' wildest dreams… well, in theory that means that other actors will follow suit. That brings more attention to smaller theaters (and PS122, excellent though they are, is still smaller than the big Broadway boys uptown).
Okay, now for the potentially scary news. It's so long you need to eat during the show.
To be fair, that's not exactly right. There are two parts, and on some nights you can see both of them. "Kentucky Cycle", "Angels in America", "Nicholas Nickleby" – all long. Of them, we're pretty sure that only "Nicholas Nickleby" had a dinner break, but that one was REALLY long (almost a full day). All were fairly well received. There was the recent Synge festival, which was long enough to need a mid-show meal, but that was more than one play. So we're admittedly wary, but hopeful that this Tale can hold its own with other lengthy theater experiences. Details about the show and its schedule (and the other people who are in it besides Mr. Big Time Movie Star) are below.

Bi-Coastal World Premiere of Heather Woodbury's
Tale of 2Cities
Begins at Performance Space 122
October 12 THROUGH 29

Oscar®, Golden Globe and Tony Award® Nominee John C. Reilly
Joins Woodbury's Ensemble Cast




August 24, 2006, NEW YORK, NY—Performance Space 122 co-presents the bi-coastal world premiere of L.A. playwright/performer Heather Woodbury's Tale of 2Cities: An American Joyride on Multiple Tracks, a two-part, time-traversing saga that delves into the Brooklyn Dodgers' relocation to Los Angeles in 1957 and the lasting effects of that move on three generations of characters from both cities. This epic and ambitious production, directed by Dudley Saunders, features an ensemble cast, including Ms. Woodbury and John C. Reilly. Tale of 2Cities is a timely and sweeping story of urban displacement – a meta-mix of music, memory and overlapping histories that form a living elegy to both vanished and vanishing communities.

Jointly commissioned by Performance Space 122 and UCLA Live, Tale of 2Cities will open at Performance Space 122 on Thursday, October 12 and run through Sunday, October 29, 2006. The play is presented as two full-length parts, Part I: "Grifters, Drifters and Dodgers" and Part II: "Mega Mixicana Waltz." The schedule permits back-to-back viewing on Saturdays and Sundays, or consecutive viewing Tuesday through Friday evenings.

Winner of the Inaugural Spalding Gray Award and once described by Laurie Anderson as "a one-woman Dickens," Woodbury makes the leap from her acclaimed trademark solo performances to craft her first ensemble play. The inter-racial cast of seven actors from New York and Los Angeles features Oscar®, Golden Globe and Tony Award® nominee John C. Reilly. Mr. Reilly is perhaps best known for his performances in such films as "Chicago," Martin Scorsese's "Gangs of New York," Wes Anderson's "Boogie Nights," Stephen Daldry's "The Hours," and most recently in Robert Altman's "Prairie Home Companion" and opposite Will Ferrell in "Talladega Nights: The Ballad of Ricky Bobby." In 2000, Mr. Reilly was nominated for a Tony Award for Best Performance by a Lead Actor in Sam Shepherd's True West, starring opposite Philip Seymour Hoffman.

In addition to Ms. Woodbury and Mr. Reilly, the rest of the Tale of 2Cities ensemble cast includes: Winsome Brown, Michael Escamilla, Tracey Leigh, Diane Rodriguez, Ed Vassallo and Heather Woodbury herself, all of whom play multiple roles ranging from 1940s Jewish leftists to contemporary Latino hipsters, as this tale of historic and contemporary uprooting and urban erasure unfolds.

Ms. Woodbury's inspiration hit while walking in the hills near Dodger Stadium after moving back to L.A. from NYC. She sensed a vanished community and so learned more about Chavez Ravine.

Tale of 2Cities won both a National Endowment for the Arts' Fellowship and a Kennedy Award while in development at the New York Public Theater, where the first draft received a staged reading. The piece progressed serially and continued to garner accolades through several drafts and solo, work-in-progress presentations at venues around the world including Steppenwolf Theatre Company's TRAFFIC series, Ireland's Galway Arts Festival, The Portland Institute for Contemporary Arts' Time-Based Arts Festival and the Baseball Reliquary's "Legacies: From Flatbush to East L.A." at the Ford Amphitheater in Los Angeles.

The production has also taken on a documentary aspect through a series of "community re-collection events" held in Brooklyn and Los Angeles. These gatherings invite audience members to bring images and accounts of neighborhoods that will be incorporated into the play's production design, and included in New York and Los Angeles community scrap-books. Ms. Woodbury's newly founded non-profit Fomenting ARTS Unlimited, Inc. is producing the re-collection project while co-presenting the play.

Additionally, Tale of 2Cities will be published as a book by semiotext(e)/MIT press in September, 2006.

SCHEDULE

October 12 – 29

Opens Thursday, October 12

Tale of 2Cities is one play presented in two parts:

Part I "Grifters, Drifters and Dodgers"

Part II "Mega Mixicana Waltz"

Tuesdays and Thursdays: Part I at 8 p.m.

Wednesdays and Fridays: Part II at 8 p.m.

Saturdays and Sundays: Part I at 2 p.m., Part II at 7 p.m.

Note: On weekends, Parts I and II are separated by an extended dinner break.

TICKETING

Note: Parts I and II may be purchased as a package (recommended), or may be purchased separately.

Play Package (Parts I and II): $30, $15 (P.S. 122 Members)

Tickets to either part: $20, $15 (students/seniors), $10 (P.S. 122 Members)

Tickets are available by phone at 212-352-3101, on-line at www.ps122.org, or in person at the Performance Space 122 Box Office, 150 First Avenue @ 9th Street.

More about Heather Woodbury

Heather Woodbury is a native of northern California who currently resides in Echo Park, Los Angeles. In her late teens, she moved to New York City's East Village and became involved in the early 80s performance arts scene where she developed her method of generating material via improvisational writing and performance. Woodbury has since earned multiple awards in both areas. Most recently, she won the inaugural Spalding Gray Award, a commissioning created and given by Performance Space 122 and UCLA Live to recognize "fearless innovators" who fully realize the writing/performing aspects of Gray's legacy. The award also includes a full production at both venues for a bi-coastal world premiere; Tale of 2Cities' L.A. premiere at UCLA Live will be followed by its New York premiere at P.S. 122. In addition, Woodbury was awarded a Los Angeles Department of Cultural Affairs' fellowship for the creation of new work in 2007.

Woodbury last entranced audiences with her first living novel, "What Ever: An American Odyssey" (Farrar, Straus, Giroux, 2003), a 100-character, 8-act solo play hailed as a "Whitmanesque vision of America" [Chicago Sun-Times] which won the LA Weekly's Best Solo Performance of the Year Award in 1998. This four-evening mini-series for-the stage, directed and edited by Woodbury's longtime collaborator Dudley Saunders, toured the U.S and Europe to critical acclaim, and was adapted as a radio play hosted by Ira Glass and broadcast on National Public Radio affiliates. www.heatherwoodbury.com.

More about Performance Space 122

Founded in 1979, Performance Space 122 is dedicated to supporting and presenting artists whose work challenges the traditional boundaries of dance, theatre, music, and performance. Committed to exploring innovative form as well as material, P.S. 122 is steadfast in its search for pioneering artists from a diversity of cultures and points of view.