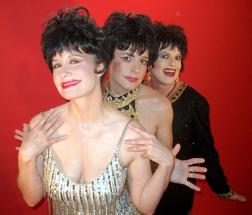 We told you before, but now we'll tell you again, okay? Karen Finley is not covered in chocolate (at least not as far as we know), but she is at the Cutting Room September 8-10. This show has a lotta Liza impersonations. You know whether or not that's for you.
September 8-10 :
KAREN FINLEY: MAKE LOVE (The Cutting Room, 19 West 24th Street).
Performance artist KAREN FINLEY honors the 5th Anniversary of 9/11
with an encore engagement of her critically acclaimed piece MAKE LOVE.
This cabaret-driven, lounge-style act co-stars drag performer and
artist Chris Tanner, pianist Lance Cruce, and a rotating roster of
LIZA MINNELLI impersonators. This encore engagement has been updated
and slightly modified to reflect current events. Friday – Sunday at
8pm. $20. For tickets call 212-352-3101 or visit
www.TheaterMania.com.