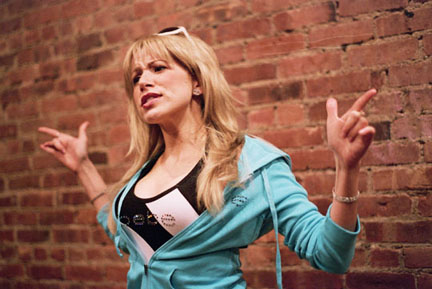 Photo by Robbie Renfrow
We've said it before and we'll say it again: make a show about a dumb celebrity, then just sit back and count your money.
OK, it's not quite that easy, and presumably Oblivious To Everyone is pretty good or it wouldn't be extending. That said, if this were a one-woman show about, say, Florence Kling Harding (she was President Harding's wife! Come on, you knew that!), odds are it wouldn't have captured the public's imagination in quite the same way.
We begrudge no one their success – and we say again, may it run ten years.
Press release follows. Enjoy.
OBLIVIOUS TO EVERYONE,
A ONE-WOMAN PLAY ABOUT THE MEDIA'S FIERCE IMPACT ON WOMEN,
EXTENDS ON NYC'S THEATRE ROW

New York, NY – A real success story is happening on Theatre Row as the
sleeper hit of The 2006 NY International Fringe Festival goes into its
second extension. Oblivious To Everyone is a social satire written and
performed by Jessica Lynn Johnson, and directed by Christopher Sorensen
(Americana Absurdum). Performances will take place from December 1st to
December 16th at The Studio Theatre in the Theatre Row Complex (410 West 42
St.) in NYC.

PRAISE FOR OBLIVIOUS TO EVERYONE:

"The show is hilarious! But the theme, it's quite serious." – Fox 5
News/Toni Senecal

"Johnson skillfully plays 10 characters, perfectly capturing them all, from
a porn star to a womanizer on Elimidate." – The Village Voice
"More oohs and ahhs at this year's Fringe Festival than baby Suri in Vanity
Fair. Oblivious To Everyone manages to make you laugh out loud when you
probably should be crying." – NY Press

"A bravura performance by Johnson that ranks as the best surprise of this
year's Fringe Festival." – NYTheatre.com

"Features more fully-realized characters than a half-dozen other
Off-Broadway shows." – HX Magazine

"An excellent one-woman show about the power of the media." – Back Stage

"A highly entertaining solo show…definitely worth seeing." – Theater Mania

Oblivious To Everyone explores the media's portrayal of and influence on the
style and psyche of the modern woman. The play centers around the character
of Carrie, a self-proclaimed smut-aholic and avid talk show watcher, who is
seeking psychiatric evaluation after repeated complaints from friends and
family about her alleged multiple 'personalities'. Rapidly flipping
identities like TV stations, the audience will discover just how oblivious
this Paris Hilton wannabe really is.

Playwright/Performer Jessica Lynn Johnson received her BFA in Theatre
Performance from Missouri State University where she was granted both the
John Goodman and Kathleen Turner talent scholarships. At Harvard, she
studied with Yuri Yeremin as part of the Moscow Art Theater's Stanislavsky
Summer Academy Program. Jessica has guest starred as Beverly on One Life To
Live. For more info on the show and Jessica visit
http://www.jessicalynnjohnson.com.

Director Christopher Sorensen is a graduate of Rutgers (MFA) where he
studied under William Esper. He has since gone on to direct/teach at Cornell
University, the American Academy of Dramatic Arts, the Atlantic Theatre
Company School and Interlochen Center for the Arts. He is one of the
original members of The Present Company and was a cast member in the
Edinburgh Fringe First Award-Winning production of Americana Absurdum by
Brian Parks.

PERFORMANCE INFO: The Studio Theatre in the Theatre Row Complex (410 West 42
St.) between 9 & 10 Avenues in NYC. Limited Engagement: December 1st –
December 16th, 2006. Performances run Fridays & Saturdays at 7pm. Tickets
are $16.25 and $11.25 for students & seniors and can be purchased by calling
212-279-4200 or visiting http://www.ticketcentral.com. Running time is 75
minutes with no intermission. Appropriate for ages 17 & up. Trains: A, C, E,
1, 2, 3, 7, 9, N, Q, R, S, W to 42nd St. B-roll available upon request.
# # # # #