February 20, 2007
February 19, 2007
Three more weeks for AT LEAST IT'S PINK at Ars Nova. These Kiki and Herb people are everywhere
This one has some writing by Michael Patrick King from Sex and the City. Working with Mellman is a step up, we think. (HA!)
Basic ticket info:
Tickets are $25 for performances January 25 to March 11. Tickets for the three-week extension will be $32.50. To purchase, call SmartTix at 212-868-4444 or go to www.SmartTix.com. Ars Nova is located at 511 West 54th Street.
Full press release is below.


AT LEAST IT'S PINK
Extends
To Sunday, April 1


Written by Bridget Everett, Michael Patrick King and Kenny Mellman
Music and Lyrics by Kenny Mellman and Bridget Everett
(more…)
November 22, 2006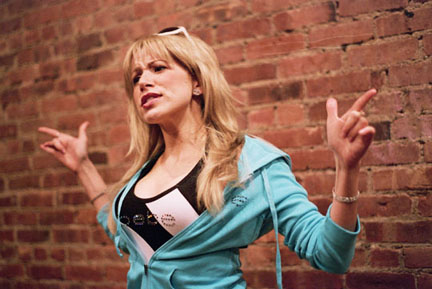 Photo by Robbie Renfrow
We've said it before and we'll say it again: make a show about a dumb celebrity, then just sit back and count your money.
OK, it's not quite that easy, and presumably Oblivious To Everyone is pretty good or it wouldn't be extending. That said, if this were a one-woman show about, say, Florence Kling Harding (she was President Harding's wife! Come on, you knew that!), odds are it wouldn't have captured the public's imagination in quite the same way.
We begrudge no one their success – and we say again, may it run ten years.
Press release follows. Enjoy.
OBLIVIOUS TO EVERYONE,
A ONE-WOMAN PLAY ABOUT THE MEDIA'S FIERCE IMPACT ON WOMEN,
EXTENDS ON NYC'S THEATRE ROW
(more…)