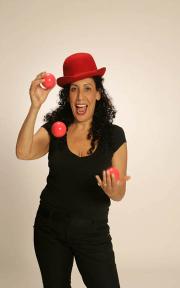 Really? What about the great clown Hymie Ishkibibble?
Actually, a quick Google search reveals a company called Circus Salaam Shalom, which must have at least one Jewish member. And this article mentions "…Crug and Kesselman, as well as Cohen, are three of several Jews active at the Circus Center, a professional training ground." Admittedly, the same article does express some surprise with Jews being in the circus.
Hey, we don't mean to nitpick. It's not like we think all theater has to be completely realistic (they don't ACTUALLY kill a cat at the beginning of 'The Lieutenant of Inishmore'). But with a title like that, we had to say SOMETHING. Oy vey.
HIGHBROW ENTERTAINMENT
presents
"JEWS DON'T JOIN THE CIRCUS"
BETH KAPLAN BONGAR'S
BRUTALLY HONEST
PITCH-PERFECT
HYSTERICALLY FUNNY BALANCING ACT
THAT IS ONE WOMAN'S FAMILY
&
THE DEVASTATING EFFECT THAT FAMILY HAD ON BETH AND ANYONE ELSE THAT CROSSED THEIR PATH

OPENS
JULY 26th
as part of the
MIDTOWN INTERNATIONAL THEATRE FESTIVAL

DIRECTED BY CHERYL KING
(more…)